Administrator
Staff member
Tanner​
Michael John (Mike)​
R.M. 40 Commando​
Major (BSM, QCVS), Colonel (OBE)​
N0238346P​
Bronze Star with V device (US), Queens Commendation for Valuable Service, Officer of the Order of the British Empire​
Iraq 2003 (BS) Iraq 2005 (QCVS), 2017 (OBE)​
London Gazette 57936, 24th March 2006, Page 4195 (QCVS)​
London Gazette 61962, 16th June 2017, Page B5 (OBE)​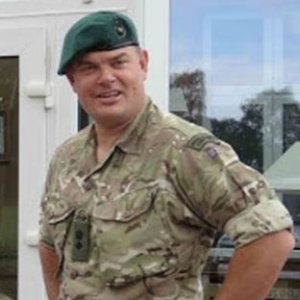 ​
Mike joined the Royal Marines in 1989 as a University Cadet Entrant whilst at Leicester University and passed out of Young Officer training in 1992. As a Subaltern he completed operational tours of West Belfast (93), Bosnia (95) and East Tyrone (96) as well as completing training in Norway, the Caribbean, South America, South Africa, Jordan and the Far East, carrying out jungle, arctic and desert warfare training.
​
​
As a Captain he was the Adjutant to Comacchio Group and then Officer Commanding Chatham Company within Commando Training Wing. Promotion to Major saw him selected to work in the British Embassy, Washington DC, as the Staff Officer Royal Marines. Subsequently he became the Royal Marines exchange officer to the USMC 2d Marines Regiment, based in Camp Lejeune, North Carolina. ​
In January 2003 he deployed to Kuwait as the head of the 2d Marines advance party, before invading Iraq in March 2003 as part of the Allied assault with Task Force Tarawa. His final appointments as a Major included SO2 Operations to the Commander UK Amphibious Forces where he completed a further operational tour in Iraq; and as a Company Commander with 40 Commando.​
​
His appointments as a Lieutenant Colonel include Executive Assistant to the Second Sea Lord, Officer Commanding Commando Training Wing and as a projects officer working on 2011 SDSR strategy and communications for the Royal Marines. He took command of 45 Commando Group on the 11th January 2012.​
​
Staff training includes the Army Junior Division and the Advanced Command and Staff Course, where he simultaneously completed the Kings College MA Defence Studies programme with Merit. He was awarded the US Bronze Star with Combat Valour decoration for his part in the assault into An Nasiriyah in 2003, and the Queen's Commendation for Valuable Service for his service in Basra, Iraq, in 2005.​
​
Married (3 children)​
​
Last edited by a moderator: