Administrator
Staff member
Photo

Full Name
Robert Park Yunnie
Nickname
Bob
Number
201206
Rank
Captain
Nationality
Date of Birth
24.04.1909 Inverness
Date of Death
03.1961 Congo Republic (as mercenary)
Gravesite
Father
Mother
Enlisted
19.09.1939 Bristol
Military
parent unit Black Watch
ranks,Royal Army Service Corps (1st Cavalry Division) 19.09.1939
graduated Officer Cadet Unit,Cairo 25.05.1941
2Lt Black Watch (Royal Highland Regiment) 25.05.1941
2 Bn Libyan Arab Force from ? - November 1942
T/Captain 12.12.1941
joined PPA 23.11.1942
PPA B Patrol
left PPA 11.04.1945
Married
Further Information
resided 70 Stanley Street, Aberdeen
insurance broker in civilian life
author "Warriors on Wheels" (1959)
son (Don)

"He lived with his men more intimately than any of us, shared their jokes and their escapades, and in return received their unreserved devotion" (Popski)
WEB LINKS:
Award :
https://www.specialforcesroh.com/index.php?threads/yunnie-robert-park-bob.27687/
National Archives :
https://discovery.nationalarchives.gov.uk/details/r/D7352380
IMAGES: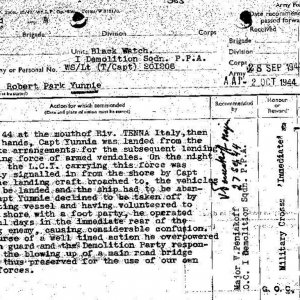 CITATION:
Military Cross : On 12 Jun 44 at the mouth of Riv. TENNA Italy, then in enemy hands, Capt Yunnie was landed from the sea to make arrangements for the subsequent landing of a raiding force of armed vehicles. On the night 15/16 Jun. the L.C.T. carrying this force was successfully signalled in from the shore by Capt Yunnie. The landing craft broached to, the vehicles could not be landed and the ship had to be abandoned. Capt Yunnie declined to be taken off by the escorting vehicle and having volunteered to remain on shore with a foot party, he operated for several days in the immediate rear of the retreating enemy, causing considerable confusion. In the course of a well timed action he overpowered the German guard and the Demolition party responsible for blowing up of a main road bridge which was thus preserved for the use of our own pursuing forces.

Recommendation by Major V. Peniakoff O.C. 1 Demolition Sqdn. P.P.A.
Last edited: