Administrator
Staff member
Carpenter​
Ethan Charles​
75 Ranger Regiment (Regimental Special Troops Bn)​
Sergeant First Class​
​
15th March 2019​
30​
​
born 19.10.1988, Sayre, Bradford County, Pennsylvania, USA ​
father Charles Carpenter​
mother Kathleen Carpenter​
wife Chana Carpenter​
daughter Cecilia Carpenter​
from Trumansburg,New York​
entered service 31.8.2007​
former 1 Bn until​
Regimental Special Troops Bn 5.6.2017​
Silver Star​
died in free-fall parachute accident Arizona​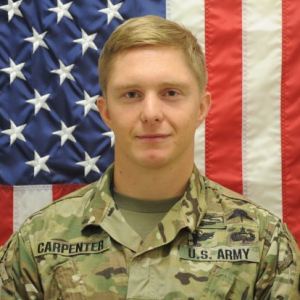 ​
Sergeant First Class (SFC) Ethan Charles Carpenter was born, October 19, 1988, in Sayre, Pennsylvania to Charles and Kathleen Carpenter. He grew up in Trumansburg, NY.
​
​
Ethan joined the United States Army as an Airborne Ranger in August 2007. His bravery during seven deployments to Afghanistan and one deployment to Iraq earned him the Silver Star, the Purple Heart, the Meritorious Service Medal, and numerous Commendation and Achievement Medals. Ethan also earned the Combat Infantryman Badge, the Expert Infantryman Badge, the Ranger Tab, the Military Free Fall Parachutist Badge, the Master Parachutist Badge, and the Pathfinder Badge during his 10 years of service.
​
​
Ethan was affectionately referred to as the "moral compass" for his men because of his strong faith in God and a fierce warrior who set the bar for all to achieve. He was a loving husband and dedicated father who always found time for his wife Chana and his daughter Cecilia. Ethan passed away on March 15, 2019 in a routine Military Parachuting Accident in Arizona. Sergeant First Class Carpenter is survived by his wife, Chana; his daughter Cecilia; his father Charles Carpenter; his mother Kathleen Carpenter; his brothers Sergeant First Class (Retired) Jacob Carpenter and Sergeant First Class Joel Carpenter; his sisters Mrs. Beth Harvey, Mrs. Sarah Beaman, Mz. Ruth Carpenter, and Ms. Martha Carpenter; his Grandmother Patricia Ditmars; and many aunts, uncles, cousins, nieces, and nephews.
​
​
Published in Ithaca Journal on Mar. 27, 2019
​
Last edited by a moderator: