Administrator
Staff member
Appleyard ​
Frank (Happy) ​
48 Commando (X Troop) ​
Lance Corporal ​
PLY/X 106192 ​
6th June 1944 ​
21 ​
Bayeux War Cemetery,France XIV.A.2 ​
born 12.08.1922, Shaw, Lancashire​
son of Charles and Bessie Appleyard,Shaw,Lancashire​
award M.M. (Sicily) (7 Bn, Royal Marines)​
KIA Normandy ​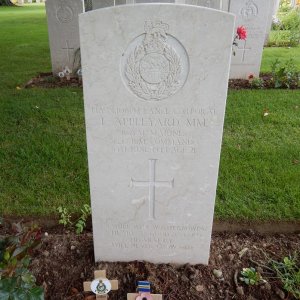 ​

​
DATE OF DEATH:
06-Jun-1944
AWARD:
https://www.specialforcesroh.com/index.php?threads/appleyard-frank-happy.58153/
CITATION:
Military Medal : This Marine was in 7 Platoon when pinned down in a gulley. When the Platoon were evacuating the gulley, he remained alone at a turn in the gulley, and continued firing his rifle every time the snipers fired a burst of M/G fire at the troops evacuating wounded. By so doing he diverted the attention to himself and undoubtedly greatly increased the chances of the survivors who were carrying the wounded back.
Sometime after the Platoon had been ordered to withdraw, Marine Appleyard returned to the gulley to make sure that no wounded on our side had been left behind, and as a result of this further act of bravery, was alone for 36 hours without food or water. He had previously gone up the gulley to fill the water bottles at a well which was under fire from the enemy, completely disregarding the danger to himself. I consider he showed the greatest courage and gallantry.
WEB LINKS:
https://discovery.nationalarchives.gov.uk/details/r/D7369970
FINDAGRAVE:
https://www.findagrave.com/memorial/56273029/frank-appleyard
Last edited by a moderator: