Administrator
Staff member
Bintley ​
Thomas Norman ​
2 SAS ​
Private ​
11052369 ​
20th August 1944 ​
29 ​
Bayeux War Cemetery,France XXVIII.G.3 ​
parent unit Army Air Corps​
born Liverpool​
resided Shropshire​
Op.Trueform - DOW​
some accounts "Sapper Bintley,R.E." (error) ​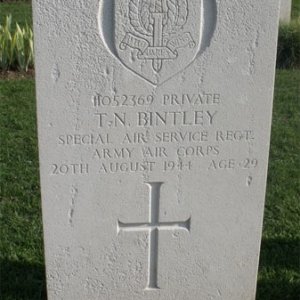 ​
This is the story of Thomas Norman Bintley, my great, great, great uncle.
​
​
Thomas was born in the spring of 1915 in Liverpool to his parents John Henry Bintley and Elizabeth Burgoyne.​
​
In 1938 he married Ellen Green. By 1941, Thomas and Ellen were living in Chorley in Shropshire. ​
​
Thomas joined the SAS and became part of Unit 2 during the Second World War.​
​
Pvt Bintley volunteered for The Parachute Regiment from the King's Shropshire Light Infantry in January 1944. He attended parachute training course number 104 at RAF Ringway, between 21 Feburary and 2 March 1944. He was then posted to the 2nd SAS Regiment and took part in Operation Trueform, in Normandy. Pvt Bintley parachuted down into Normandy on August 17th 1944. His mission during Operation Trueform was to be a nuisance behind enemy lines. His task was to destroy petrol supplies, burst the tyres of enemy vehicles and generally harass the enemy. On August 19th 1944, Pvt Bintley and his comrades captured four German guards and sixteen SS soldiers and their officer at a French farm. However, more SS soldiers arrived and a gun battle commenced. Pvt. Bintley was shot in the head. He died on August 20th 1944, aged 29. A French priest managed to get a letter home to Pvt. Bintley's wife to let her know what had happened. A local Frenchman was forced to dig the Pvt Bintley's grave and he later testified that while he dug the grave the Waffen SS 'danced on the corpse of Bintley'. ​
Private Thomas Norman Bintley is buried at Bayeaux Cemetery in France.
[ SOURCE : Jennifer Lawson / Ancestry ]
​
Last edited by a moderator: