Administrator
Staff member
Bishop ​
Timothy Roland ​
48 Commando ​
Sergeant ​
PO/X 101978 ​
6th June 1944 ​
20 ​
Dosthill (St Paul) Churchyard, Dosthill, Staffordshire N.W. Corner ​
born 20.06.1923, Tamworth Borough, Staffordshire, England, UK​
son of Timothy Smith and Mildred Gladys (nee Boonham) Bishop, Dosthill, Staffordshire​
resided with Grandfather Mr. Joseph Boonham, The Gables​
educated Tamworth Grammar School​
employed by National Provincial Bank​
served North Africa, Sicily​
died Normandy landings ​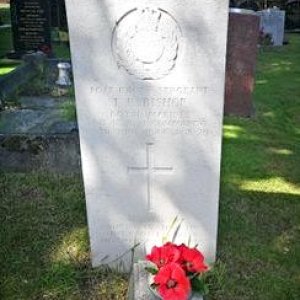 ​

​
THE LATE SERGT. T. R. BISHOP - Tamworth Herald - 17th June 1944
​
******************************************************************​
A wide circle of friends at Dosthill and Tamworth heard with deep regret of the death in the service of his country of Sergeant Timothy Roland Bishop, Royal Marines. His frank and engaging personality made him well liked and popular with all that knew him and he will be greatly missed.​
​
He was the son of Mr. Timothy S. Bishop, of Comberford Road, Tamworth. He was a native of Dosthill, and had lived there with his grandfather, Mr. Joseph W. Boonham, of the The Gables.​
​
Educated at the Tamworth Grammar School, before joining the Forces he was employed by the National Provincial Bank, at their Lichfield branch. His three and a half years service with the Royal Marines had included participation in the North Africa Campaign and the invasion of Sicily.​
​
Military honours were accorded at the funeral on Monday (12th June), and manifestations of esteem and sympathy were such that St Paul's Church was more than filled and many unable to gain admittance gathered in the churchyard.​
*********************************************************************​
​
Sgt. Bishop died on war service in France two weeks before his 21st birthday.
​
Last edited by a moderator: