Administrator
Staff member
Brininstool ​
Donald W. ​
506 Parachute Infantry Regiment (Company A) ​
Sergeant ​
16108741​
Silver Star,Bronze Star ​
Europe ​
Born 12.07.1921​
Silver Star​
Bronze Star​
Purple Heart​
Died 22.03.2009 (Aged 87)​
Buried Hillcrest Memorial Park, Jackson, Jackson County, Michigan (Memorial ID 38508792)​
​
​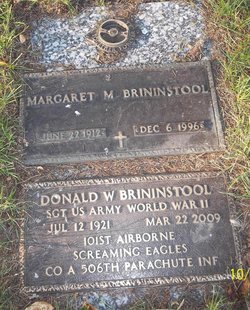 Don Brininstool was a paratrooper who served in the 101st Airborne Division, Company A of the 506 Regiment. He fought in Normandy, Holland, and Bastogne. He was awarded the Silver Star, Bronze Star and the Purple Heart.
www.findagrave.com
Last edited by a moderator: