Administrator
Staff member
Cassidy ​
Patrick F. ​
502 Parachute Infantry Regiment (Commanding Officer 1 Bn) ​
Lieutenant Colonel ​
​
Distinguished Service Cross,Silver Star ​
Europe ​
Born 22.03.1915​
Nickname Hopalong​
Died 05.01.1990 (Aged 74)​
Buried Fort Sam Houston National Cemetery ​
​
​
Military Hall of Honor, a virtual Military Hall of Honor. Remembrances and tributes to all those who have honorably served in the US Armed Forces.

Patrick "Hopalong" Francis Cassidy (22 March 1915 in Pendleton, Oregon - 9 January 1990 in San Antonio, Texas) was an American Lieutenant Colonel in the United States Army during World War II. He was awarded multiple decorations during his military career. He retired as a Lieutenant General...
military.wikia.org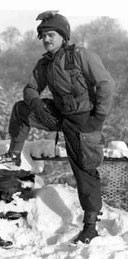 Lieutenant General, U.S. Army Lieutenant Colonel Patrick Francis 'Hopalong' Cassidy's Army career first became well known while he was serving as Commanding Officer, 1st Battalion, 502nd Parachute Infantry Regiment, 101st Airborne Division, on D-Day. In action against enemy forces in France...
www.findagrave.com
Last edited by a moderator: