Administrator
Staff member
Helpingstine ​
Herbert ​
1 Raider Bn (Company C) ​
Corporal ​
353308 ​
26th July 1944 ​
24​
National Memorial Cemetery,Honolulu,Hawaii Plot F Row 0 Grave 974 ​
born 28.12.1919, Whiting, Lake County, Indiana, USA​
father Grover Helpingstine (1884-1943)​
mother Julia (nee Hartleroad) Helpingstine (1899-2003)​
from Indiana​
award Navy Cross​
KIA Guam,Marianas Is. ​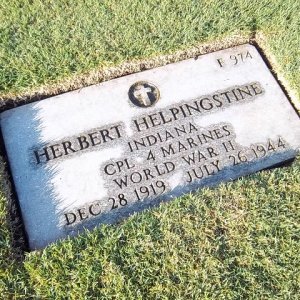 ​
​
DATE OF DEATH:
26-Jul-1944
AWARD:
https://www.specialforcesroh.com/index.php?threads/helpingstine-herbert.29737/
CITATION:
Navy Cross : The President of the United States of America takes pride in presenting the Navy Cross (Posthumously) to Corporal Herbert Helpingstine (MCSN: 353308), United States Marine Corps Reserve, for extraordinary heroism as bazooka man serving with the First Battalion, Fourth Marines (Reinforced), First Provisional Marine Brigade, in action against the enemy Japanese forces on Orote Peninsula, Guam, Marianas islands, 26 July 1944. When the first platoon was pinned down by a withering barrage from an enemy pillbox during an advance across an open field, Corporal Helpingstine unhesitatingly left his place of comparative safety and fearlessly proceeded to a position on the firing line. Again exposing himself to intense hostile fire in order to obtain a new position closer to the Japanese emplacement, he knelt and coolly sighted his objective but was struck down by a sudden volley from enemy guns before he could use his weapon. Although mortally wounded, Corporal Helpingstine resumed his position and, fighting with determined aggressiveness, succeeded in silencing the Japanese pillbox with a well-aimed burst of fire. By his daring initiative and great personal courage in the face of grave peril, he contributed materially to the saving of many lives, and his valiant conduct throughout was in keeping with the highest traditions of the United States Naval Service. He gallantly gave his life for his country.
FINDAGRAVE:
https://www.findagrave.com/memorial/104928734/herbert-helpingstine
Last edited by a moderator: