Administrator
Staff member
Kumje Tawng Wah​
Force 136 SOE​
Second Lieutenant (T/Captain)​
ABRO 835​
Military Cross,Burma Gallantry Medal,Mention in Despatches​
​
Burma 1944-45​
parent unit Army in Burma Reserve of Officers (attached Burma Army Signals)​
born 29.9.1914 Mogoke,Burma​
Dah Force 1943​
​
Biography of Captain Kum Je Tawng Wah
​
​
Captain Kum Je Tawng was born in Shwe Nyaung Pin quarter, Mogoke city in Myanmar on 29th September 1914. His father, Subedar Kum Je Naw, a British soldier during the First World War and his mother's name was Mahkaw Lu. Both his parents are from a small village in Bahmo district, Kachin State.
​
​
When he was 5 years old his parents were transferred to Malaya by British military for some years. Kum Je Tawng was left at teacher Mr maran La at Sinlonh village in Bahmo by his parents for year 1929-30. After that he was sent to A.B.M. School in Basseia. He passed his examination. When he passed the 10th standard exam he worked at Sussex Regiment, British Army as a radio operator. When Japanese Army arrived Myanmar he with British Army fled to Calcutta in 1942.
​
​
August 1943 he came back to Myanmar, dropping down by parachute together with two friends, Sgt. Maran Hka Li and Sgt. Lashi Hkang Htan. They were spying on the Japanese till the end of the war, sending back messages by wireless to the British Allied Forces in India.
​
​
In 1943 Japanese Army camped in Moe Mauk village in Bahmo. He spied and sent a message by wireless to British Allied Forces and attacked by bombing.
​
​
Later with his parachute he jumped down in Northern Shan State and Eastern Shan State. He also jumped down to Kayin State. That was during 1944. He used gold coins for his expenditure during his spying time. He had jumped down from his parachutes for 14 times for spying.
​
​
The war ended in 1945. He served as a Transport Officer at 2nd Kachin Rifle Regiment in 1946.
​
He was awarded M.C. and B.G.M. and so on.
​
​
In 1946 he was transferred to Civil Service in Lawhkawng in the northern east Kachin, near the border line of Myanmar and China.
​
​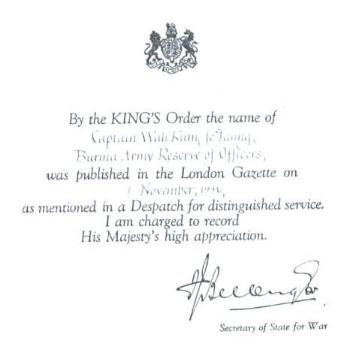 ​
Captain Wah Kum Je Tawng (sic)
​
Burma Army Reserve of Officers
​
Mentioned in Despatches 7 November 1946
​
​
Kum Je Tawng Wah, M.C., B.G.M. died at his home in Burma 1999
​
​
His wife, Maran Lu, had served as a nurse with both British and American Forces in Burma
​
​
The Burma Gallantry Medal.
​
Captain Kum Je Tawng Wah, Army in Burma Reserve of Officers.
​
"As Jemadar he was in charge of a party dropped behind the enemy lines. Although out of touch with his base, he continued to carry out his role, and obtained much valuable information by personal reconnaissance. He remained behind enemy lines for a period of 15 months, and latterly assisted in the carrying out of Dah Force operations, during which time he showed a high regard for duty and a corresponding disregard for his personal safety and interests."
​
​
Awarded the Military Cross: 4 Oct. 1945:
​
T/Capt. (W/S Lieut.) Kumje Tawng Wah.
​
"This officer landed by parachute behind the enemy lines in Nov. 44. He rapidly built up a most efficient intelligence network which provided regular and reliable information of great value to NCAC and 10th USAAF. He also developed the nucleus of a guerrilla force which was already in a high state of efficiency when other officers were dropped in during Dec. to command and expand this force. It ultimately guarded the left flank of NCAC forces advancing down the road from Namkhan to Kutkai and inflicted over 80 casualties on the enemy. He was withdrawn in Feb. 45 and again landed by parachute behind the enemy lines in March where he presently is developing an intelligence network with his customary courage and efficieny."
​
​
​
Last edited by a moderator: