Administrator
Staff member
Rider ​
Alan Ray ​
Naval Beach Commandos (HMAS Kuranda ​
Ordinary Seaman ​
PM5099 ​
7th July 1944 ​
19 ​
Cairns Military Cemetery, Queensland, Australia. Plot A Row D Grave 9 ​
born 07.07.1925, North Fitzroy, Victoria, Australia​
father Arthur Allan Rider (1890-1960)​
mother Winifred Rose Ray (1902-1991)​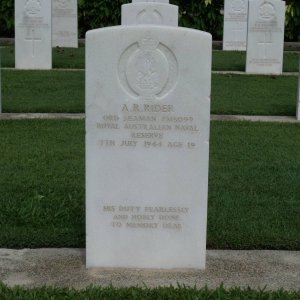 ​
Alan Ray Rider​
R.A.N.R.​
​
Number: PM5099​
Rank: Ordinary Seaman​
D.O.B.: 7th July 1925, North Fitzroy, Victoria​
son of Arthur Allan and Winifred Rose Rider,East Coburg,Victoria​
​
Service History​
21.10.42 Enlisted as an Ordinary Seaman, HMAS Cerberus​
11.12.42 Posted to HMAS Assault​
14.03.43 Assault Trained and posted to HMAS Moreton​
26.05.43 Posted to HMAS Assault​
23.07.43 Posted to HMAS Westralia - Landing Ship Infantry. Served in New Guinea waters from September 1943.​
04.02.44 Posted to Beach Party, HMAS Platypus​
08.05.44 Posted to Naval Beach Commandos, Kuranda​
30.06.44 Admitted 116th Australian General Hospital as a result of a road accident.​
07.07.44 Died of injuries. Buried in the Cairns Military Cemetery Plot A, Row D, Grave 9​
​
Notes​
Commemorated on the Coburg, Victoria, Roll of Honour and Wall of Remembrance at the Australian War Memorial​
Last edited by a moderator: