Administrator
Staff member
Belcher ​
Julius Wilbur​
2 Ranger Bn (Company C) ​
Sergeant ​
33213927 ​
Distinguished Service Cross ​
Normandy 1944 ​
resided Swords Creek, Virginia​
born 28.10.1921, Grundy, Virginia, USA​
father James Monroe Belcher (1894-1962)​
mother Maggie L. (nee Edwards) Belcher (1894-1965)​
4 years high school​
employed by NNSDD Co.​
30.06.1942 draft card Swords Creek, Virginia​
divorced without dependents upon enlistment​
20.11.1945 enlisted​
10.01.1946 married Ruth Velva (nee Barker) Belcher (1929-1994)​
17.04.1950 discharged​
died 18.03.1998 (aged 76) Rowan County, Kentucky, USA​
Dean Cemetery #3, Enterprise, Kentucky, USA​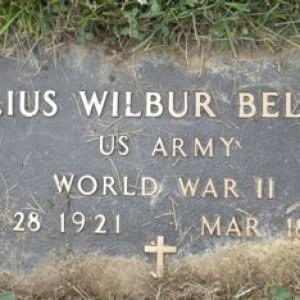 ​
CITATION:
Distinguished Service Cross : The President of the United States of America, authorized by Act of Congress, July 9, 1918, takes pleasure in presenting the Distinguished Service Cross to Sergeant Julius W. Belcher (ASN: 33213927), United States Army, for extraordinary heroism in connection with military operations against an armed enemy while serving with Company C, 2d Ranger Infantry Battalion, in action against enemy forces on 6 June 1944, at Verville-Sur-Mer, France. Upon landing with the initial assault Ranger Battalion on the coast of France, Sergeant Belcher immediately moved up the beach under heavy machine gun, mortar and sniper fire, and scaled a 100-foot cliff to secure toggle ropes to barbed wire on top of the cliff. Though under constant fire on top of the cliff he remained at his position and cleaned out six snipers. Following this he charged an enemy pillbox and mortar position and destroyed it with grenades. Sergeant Belcher's intrepid actions, personal bravery and zealous devotion to duty exemplify the highest traditions of the military forces of the United States and reflect great credit upon himself and the United States Army.
WEB LINKS:
https://valor.militarytimes.com/hero/21884
http://rangerroster.org/SearchDetails.asp?ID=2085
FINDAGRAVE:
https://www.findagrave.com/memorial/134534914/julius-wilbur-belcher
Last edited by a moderator: