Administrator
Staff member
Birchim ​
James Douglas (Jim) ​
5 SF Group (MACV- SOG - CCC) (FOB 2) (RT Vermont) ​
First Lieutenant ​
530304771 ​
15th November 1968 ​
22 ​
National Memorial Cemetery of the Pacific,Honolulu,Hawaii Courts of the Missing Court B​
from Independence,California​
born 16.7.1946 Culver City,Los Angeles,California​
son of James Leman and Dorcas Loraine (nee Haynes) Birchim​
husband of Barbara Lynn (nee Sherwood) Birchim,San Francisco,California (married 28.7.1966) (2 children Kim and David)​
graduated Owens Valley High School 1964​
award D.S.C.​
MIA after falling off McQuire rig during helicopter extraction Laos (11k SE of A-243,Dak Seang),Kontum Province,South Vietnam​
body not recovered​
declared dead 10.5.1971 as Captain​
remembered San Francisco National Cemetery,California Section MA Site 7 ​
Vietnam Veterans Memorial,Washington,D.C. Panel 39W Line 69 ​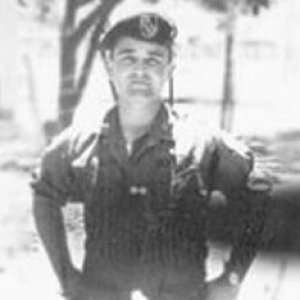 ​
DATE OF DEATH:
15-Nov-1968
AWARD:
https://www.specialforcesroh.com/index.php?threads/birchim-james-douglas.31179/
CITATION:
Distinguished Service Cross : The President of the United States of America, authorized by Act of Congress, July 9, 1918 (amended by act of July 25, 1963), takes pride in presenting the Distinguished Service Cross (Posthumously) to Captain (Chemical Corps), [then First Lieutenant] James Douglas Birchim, United States Army, for extraordinary heroism in connection with military operations involving conflict with an armed hostile force in the Republic of Vietnam, while serving with Command and Control Central, 5th Special Forces Group (Airborne), 1st Special Forces Group. Captain Birchim distinguished himself by exceptionally valorous actions on 15 November 1968, while serving as the team leader of a Special Forces long-range reconnaissance team operating deep within enemy-controlled territory with the mission of locating a missing team. After three days of fruitless search, Captain Birchim's team was ambushed by an enemy force. The team executed immediate actions to break contact. During the withdrawal, which scattered the team, Captain Birchim's ankle was broken by an exploding enemy grenade. In spite of his wounds, he successfully reassembled the team, led them out of the ambush area, and directed air strikes against the enemy. As the team moved toward an extraction zone, they were attacked twice by enemy forces. On both occasions, Captain Birchim's aggressive and courageous leadership enabled the team to break contact and continue toward the extraction site. During the last exchange, Captain Birchim was again wounded by an enemy grenade. At the extraction site, one of the helicopter's extraction ropes was rendered useless when it became tangled in the trees. After insuring that all other members of the team were secured in the remaining harnesses, Captain Birchim seized one of the extraction ropes in an attempt to ride "double" out of the jungle to safety. Weak from his wounds and exhausted by his efforts, Captain Birchim fell from the extraction rope during a storm on the return trip. Captain Birchim's extraordinary heroism and devotion to duty, at the cost of his life, were in keeping with the highest traditions of the military service and reflect great credit upon himself, his unit, and the United States Army.
WEB LINKS:
https://valor.militarytimes.com/hero/4582
Last edited by a moderator: