Administrator
Staff member
Carlson​
Evans Charles​
2 Raider Bn ​
First Lieutenant​
​
Silver Star​
Guadalcanal 1942 ​
born 01.10.1917, Douglas, Arizona​
father Brigadier General Evans Fordyce Carlson, USMCR (see RAIDERS AWARDS) (1896-1947)​
mother Dorothy Harriet (nee Seccomobe) Carlson​
wife Regina M. Carlson (resided West Columbia)​
daughter Karen​
sons Evans J. and Thomas F.​
home town San Francisco, California​
19.05.1941, commissioned as Second Lieutenant​
awarded second Silver Star for service in Korea as a night fighter pilot​
distinguished flying cross, legion of merit, 2 distinguished air medals​
1967 retired Marine Corps​
died 02.04.2005 (Aged 87)​
buried Beaufort National Cemetery, Section 40, Site 191​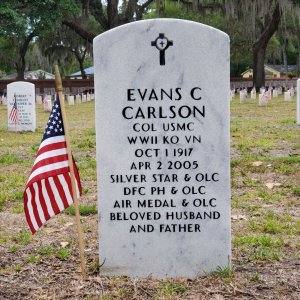 ​
CITATION:
Silver Star : The President of the United States of America takes pleasure in presenting the Silver Star to First Lieutenant Evans C. Carlson (MCSN: 0-8067), United States Marine Corps Reserve, for conspicuous gallantry and intrepidity in action while serving as leader of a rifle platoon in Company E, Second Marine Raider Battalion, during operations against enemy Japanese forces on Guadalcanal, Solomon Islands, from November 4 to December 4, 1942. Charged with directing the advance guard of the battalion on several occasions, First Lieutenant Carlson, with sound judgment and unflinching courage, carried out the missions assigned him with marked success. On November 11, faced by a numerically superior enemy at Asamana, he dauntlessly led his men into combat. When the company finally had to retire, due to the terrific fire of overwhelming Japanese forces, he effectively covered the retirement with his platoon. His skill, tenacity, and fearless devotion to duty were in keeping with the highest traditions of the United States Naval Service.
WEB LINKS:
https://marineraiderassociation.org/carlson-evans-c/
https://valor.militarytimes.com/hero/39494
FINDAGRAVE:
https://www.findagrave.com/memorial/226073244/evans-charles-carlson
Last edited: