Administrator
Staff member
Hancock​
Elzie Jackson, Jr.​
4th Raider Battalion (Company C)​
Private First Class​
418893​
20th July 1943​
24​
Hillcrest Cemetery, Sylvester, Georgia, USA​
resided Columbus, Georgia​
born 18.01.1919, Sylvester, Worth County, Georgia​
father Elzie Jackson Hancock (1891-1987)​
mother Lillie Mae (nee Nelms) Hancock (1894-1951)​
01.09.1942 enlisted​
Next of kin - Mother, Mrs. Lillie M. Hancock, 1024 Annette Avenue, Columbus, Georgia​
KIA Solomon Islands​
posthumous Silver Star​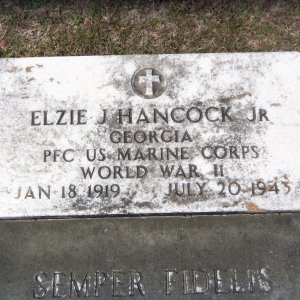 ​
DATE OF DEATH:
20-Jul-1943
AWARD:
https://www.specialforcesroh.com/index.php?threads/58348/
CITATION:
Silver Star : The President of the United States of America, authorized by Act of Congress July 9, 1918, takes pride in presenting the Silver Star (Army Award) (Posthumously) to Private First Class Elzie J. Hancock, Jr. (MCSN: 418893), United States Marine Corps Reserve, for gallantry in action while serving with the Fourth Marine Raider Battalion at Bairiki Harbor, New Georgia, Solomon Islands on 20 July 1943. Exposing himself to relentless enemy fire with no concern for his own safety he kept the right and left flanks of his company in contact with each other and through times guided them into position for assaults on a Japanese machine gun emplacement that threatened devastating flanking fire on an entire battalion. Private Hancock was killed while leading a charge which silenced the enemy guns.
WEB LINKS:
https://valor.militarytimes.com/hero/36676
FINDAGRAVE:
https://www.findagrave.com/memorial/102821707/elzie-jackson-hancock