Administrator
Staff member
Herwig ​
Robert John ​
"NHQ" ​
Second Lieutenant ​
​
Navy Cross ​
Guam 1944 ​
born 12.12.1914, Woodford, Kern County, California, USA​
father John Newton Herwig (1874-1958)​
mother Pearl (nee Merrill) Herwig (1891-????)​
wife Kathleen Winsor (1919-2003) (married 1936, divorced 1946)​
died 14.12.1974 (Aged 60) Sacramento County, California, USA​
buried East Lawn Elk Grove Memorial Park, Elk Grove, Sacramento County, California, USA​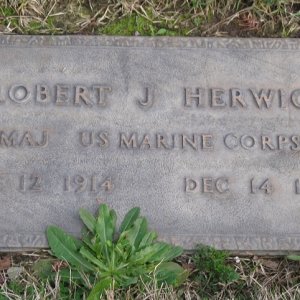 ​
CITATION:
Navy Cross : The President of the United States of America takes pleasure in presenting the Navy Cross to Second Lieutenant Robert J. Herwig (MCSN: 0-20070), United States Marine Corps Reserve, for extraordinary heroism as a Rifle Platoon Leader, attached to the Second Battalion, Fourth Marines (Reinforced), First Provisional Marine Brigade, Third Amphibious Corps, during action against enemy Japanese forces on the Island of Guam in the Marianas Group, on 21 and 28 July 1944. Although wounded while directing his platoon under exceptionally heavy hostile mortar and machine-gun fire, Second Lieutenant Herwig remained with his men, reorganized them and contributed to their success in repulsing an enemy counterattack. Evacuated for medical treatment, he returned immediately to duty with his company. Displaying unusual skill and courage during a later action, he led his men in repelling two Japanese counterattacks and, although wounded during the last one, refused to be evacuated until the completion of the action. His great personal valor and devotion to duty reflect the highest credit upon Second Lieutenant Herwig and the United States Naval Service.
WEB LINKS:
https://valor.militarytimes.com/hero/7889
FINDAGRAVE:
https://www.findagrave.com/memorial/158456408/robert-john-herwig
Last edited by a moderator: