Administrator
Staff member
Johnson ​
Denzil O. ​
5 Ranger Bn (Company A) ​
Sergeant ​
38452897 ​
Distinguished Service Cross ​
Normandy 1944 ​
promoted T/Sgt ​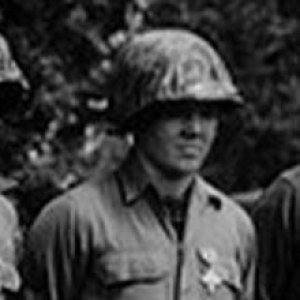 ​
CITATION:
Distinguished Service Cross : The President of the United States of America, authorized by Act of Congress, July 9, 1918, takes pleasure in presenting the Distinguished Service Cross to Sergeant Denzil O. Johnson (ASN: 38452897), United States Army, for extraordinary heroism in connection with military operations against an armed enemy while serving with a Ranger Infantry Battalion, in action against enemy forces on 7 June 1944, in France. Sergeant Johnson was a scout for a patrol sent out to bring reinforcements to the isolated remnants of a Ranger battalion. The patrol was driven to the edge of a high cliff along the sea by enemy machine gun fire. Led by Sergeant Johnson the patrol worked themselves along the face of the cliff. When the patrol came to the top of the cliff it was stopped by hostile machine gun fire and a mine field. With complete disregard for his own personal safety, Sergeant Johnson rushed across the fire-swept ground seeking a path through the mine field. Finding an escape route, Sergeant Johnson returned to the patrol and led it to a position of safety. His intrepid actions, personal bravery and zealous devotion to duty exemplify the highest traditions of the military forces of the United States and reflect great credit upon himself, his unit, and the United States Army.
WEB LINKS:
https://valor.militarytimes.com/hero/22286
Last edited by a moderator: