Administrator
Staff member
Kelley​
Jerry Conrad​
503 Infantry Regiment (Airborne) (Company C,1 Bn)​
Specialist Fourth Class​
55876523​
12th November 1967​
21​
Fort Logan National Cemetery,Denver,Denver County,Colorado Section R Site 739​
from Englewood,Colorado​
born 21.11.1945​
single​
1 year service​
award D.S.C.​
KIA Kontum Province,South Vietnam​
Vietnam Veterans Memorial,Washington,D.C. Panel 29E Line 83​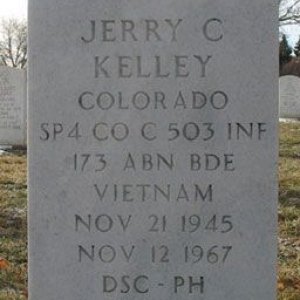 ​
DATE OF DEATH:
12-Nov-1967
CITATION:
Distinguished Service Cross : The President of the United States takes pride in presenting the Distinguished Service Cross (Posthumously) to Jerry Conrad Kelley (US55876523), Specialist Fourth Class, U.S. Army, for extraordinary heroism in connection with military operations involving conflict with an armed hostile force in the Republic of Vietnam, while serving with Company C, 1st Battalion (Airborne), 503d Infantry, 173d Airborne Brigade (Separate). Specialist Four Kelley distinguished himself by exceptionally valorous actions on 12 November 1967 while serving as machine gunner of an airborne infantry company on combat operations near Dak To. His company was savagely attacked by a North Vietnamese Army battalion firing mortars, rockets and small arms from well-concealed positions. Specialist Kelley quickly laid down a devastating base of counterfire which stalled the enemy attack. Several men had been wounded in the initial enemy barrage, and he took up an exposed position to cover their evacuation. With bullets striking all around him, he inflicted heavy casualties to the attackers. Badly outnumbered, his unit was forced to pull back to a more defensible position. Specialist Kelley elected to remain between his company and the hostile forces and covered the withdrawal. The North Vietnamese concentrated their attention and efforts on his position in an attempt to stop his ravaging fire, and he was wounded by an intense enemy fusillade. With complete disregard for his safety, he moved back twenty meters and once more set up his machine gun to repel the enemy attack. Realizing he had become cut off from his company, he fought furiously against the savage North Vietnamese Army force's assault until he was mortally wounded. His fearless actions disrupted the momentum of the enemy attack and prevented numerous casualties to his fellow soldiers. Specialist Four Kelley's extraordinary heroism and devotion to duty, at the cost of his life, were in keeping with the highest traditions of the military service and reflect great credit upon himself, his unit, and the United States Army.
Last edited by a moderator: