Administrator
Staff member
Mosser​
John S.​
2 Marine Special Operations Bn (Company H)​
Staff Sergeant​
​
Navy Cross​
Afghanistan 2008​
3 Recon Bn (C Company),3 MarDiv 2010 (Gunnery Sgt)​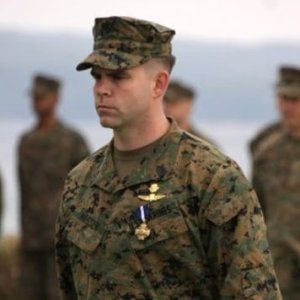 ​
CITATION:
Navy Cross : The President of the United States of America takes pleasure in presenting the Navy Cross to Staff Sergeant John S. Mosser, United States Marine Corps, for extraordinary heroism in connection with combat operations against the enemy while serving as Team Sergeant, Marine Special Operations Company H, Second Marine Special Operations Battalion, U.S. Marine Corps Forces, Special Operations Command, in support of Operation ENDURING FREEDOM on 26 June 2008. While maneuvering through restrictive terrain to prosecute a time-sensitive High Value Target, dismounted patrol members were engaged with heavy volumes of high-angle automatic and sniper fire. Within seconds, two Marines lay wounded in the kill zone unable to seek cover. With disregard for his own safety, Staff Sergeant Mosser maintained keen situational awareness and calm under fire as he rushed to the aid of the nearest Marines. He single-handedly dragged the wounded Marine over 35 feet to a covered position and administered first aid. With the entire patrol desperately pinned down, one Marine killed, and five more severely wounded, Staff Sergeant Mosser devised a plan to break contact and extract his team. While adjusting close air support, he personally shielded and moved the wounded Marine through the kill zone a second time to safety. He then ordered the extraction of the remaining 22 members trapped in the ambush. As he instructed the team to move, Staff Sergeant Mosser exposed himself repeatedly to enemy fire and engaged the enemy until all members were safe. By his courageous actions, bold initiative, and total devotion to duty, Staff Sergeant Mosser reflected great credit upon himself and upheld the highest traditions of the Marine Corps and of the United States Naval Service.
Last edited by a moderator: