Administrator
Staff member
Murphy ​
John Joseph,Jr ​
1 Raider Bn (Company B) ​
Corporal ​
328014​
Navy Cross ​
Tulagi 1942 ​
born 09.02.1921, Brooklyn, New York, USA​
father John J. Murphy Sr.​
mother Helen Ames Murphy​
wife Gertrude Anne (nee Dorchak) Murphy (1924-1994) (married 16.03.1948, Saranac Lake)​
sons Michael E, John Patrick (1950-2008) & Patrick T. Murphy​
WIA 09.09.1942, Solomon Islands​
later with 3 Raider Bn (Company K) ​
died 06.01.2004 (Aged 82), Sharon, Litchfield County, Connecticut, USA​
buried St. Charles Cemetery, Dover Plains, Dutchess County, New York, USA​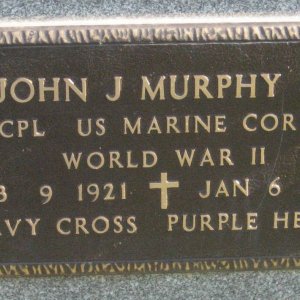 ​
CITATION:
Navy Cross : The President of the United States of America takes pleasure in presenting the Navy Cross to Private First Class John J. Murphy, Jr. (MCSN: 328014), United States Marine Corps, for extraordinary heroism and conspicuous devotion to duty while serving as a member of a Rifle Company of the Second Marines (Reinforced), SECOND Marine Division, aboard the YP-346 during action against enemy Japanese forces off the coast of Tulagi, Solomon Islands, on the night of 9 September 1942. With his ship illuminated by the enemy and hostile gunfire causing violent explosion of shells inside the magazine directly beneath his battle station, Private First Class Murphy voluntarily remained on board, despite devastating Japanese shellfire, to assist in repairing damage to the engine room until that compartment also became untenable. Although wounded by a shell fragment shortly afterward, he gallantly disregarded his own condition to help evacuate other injured shipmates to a dressing station ashore, following the beaching of the vessel. His conspicuous courage in a situation of grave peril was in keeping with the highest traditions of the United States Naval Service.
WEB LINKS:
https://valor.militarytimes.com/hero/7908
FINDAGRAVE:
https://www.findagrave.com/memorial/64295703/john-j-murphy
Last edited by a moderator: