Administrator
Staff member
Ringgold ​
Charles Frank​
4 Raider Bn (Company O) ​
Private First Class ​
520848​
24th July 1944 ​
19​
Columbia Cemetery, West Columbia, Brazoria County, Texas, USA ​
born 09.05.1925, West Columbia, Brazoria County, Texas, USA ​
father James Wyatt Ringgold (1888-1961)​
mother Nellie Adelia (nee Chamblee) Ringgold (1894-1976)​
enlisted 05.1943​
award Navy Cross​
KIA Guam,Marianas Is. ​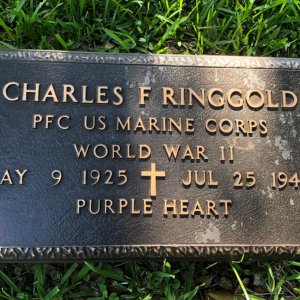 ​
DATE OF DEATH:
24-Jul-1944
AWARD:
https://www.specialforcesroh.com/index.php?threads/ringgold-charles-f.29776/
CITATION:
Navy Cross : The President of the United States of America takes pride in presenting the Navy Cross (Posthumously) to Private First Class Charles F. Ringgold (MCSN: 520848), United States Marine Corps Reserve, for extraordinary heroism and devotion to duty while serving with the Second Battalion, Fourth Marines (Reinforced), First Provisional Marine Brigade, in action against enemy Japanese forces on the Island of Guam in the Marianas, on 24 July 1944. Wounded while countering the enemy's first attempt to penetrate our lines that night, Private First Class Ringgold proceeded to the rear where he received medical treatment, then returned voluntarily to the flank position occupied by his machine-gun squad. Steadfastly remaining at his post throughout the night, he repeatedly fought off the persistent efforts of the Japanese troops to infiltrate his position and succeeded in killing two of the enemy before succumbing to his wounds. By his tireless vigilance, indomitable fighting spirit and determined fortitude, Private First Class Ringgold was largely responsible for the successful defense of his position, and his great personal valor and unwavering devotion to duty in the face of ruthless, unceasing opposition reflect he highest credit upon himself and upon the United States Naval Service. He gallantly gave his life for his country.
FINDAGRAVE:
https://www.findagrave.com/memorial/9395689/charles-f-ringgold
Last edited by a moderator: