Administrator
Staff member
Salzman ​
Edward Ernest​
4 Raider Bn (Company Q) ​
Sergeant ​
410198 ​
21st July 1944 ​
24​
National Memorial Cemetery, Honolulu, Hawaii Plot M Row 0 Grave 196 ​
from California​
born 15.07.1920, Santa Barbara, Santa Barbara County, California, USA​
award Navy Cross​
KIA Guam, Marianas Is. ​
Lompoc Evergreen Cemetery, Lompoc, California (memorial stone?)​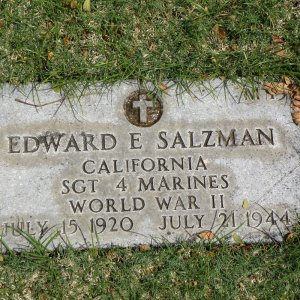 ​
DATE OF DEATH:
21-Jul-1944
AWARD:
https://www.specialforcesroh.com/index.php?threads/salzman-edward-e.29786/
CITATION:
Navy Cross : The President of the United States of America takes pride in presenting the Navy Cross (Posthumously) to Sergeant Edward E. Salzman (MCSN: 410198), United States Marine Corps, for extraordinary heroism and devotion to duty while serving with the Second Battalion, Fourth Marines (Reinforced), First Provisional Marine Brigade, in action against enemy Japanese forces on Guam, Marianas Islands, 21 July 1944. Observing an adjoining unit in an extremely untenable position, Sergeant Salzman unhesitatingly and with complete disregard for his own personal safety exposed himself to intense, persistent hostile fire in an effort to locate the Japanese emplacements and direct the fire of his own platoon against them for the purposes of assisting the other unit. Although mortally wounded while carrying out this hazardous mission, he courageously dragged himself back to his squad and, skillfully placing the men in advantageous positions, continued to direct the fire accurately and effectively until he succumbed to his wounds. Sergeant Salzman's brilliant initiative, indomitable fighting spirit and self-sacrificing devotion to duty in the face of grave peril were in keeping with the highest traditions of the United States Naval Service. He gallantly gave his life for his country.
WEB LINKS:
https://www.findagrave.com/memorial/84991447/edward-e.-salzman
FINDAGRAVE:
https://www.findagrave.com/memorial/111105096/edward-e-salzman
Last edited by a moderator: