Administrator
Staff member
Vial ​
Leigh Grant ​
R.A.A.F. (coastwatcher and intelligence officer) ​
Flight Lieutenant ​
253939 ​
30th April 1943 ​
34 ​
Lae War Cemetery,Papua New Guinea D.D.9 ​
born 28.2.1909​
son of Stanley Browning and Mary Vial​
husband of Marjorie Kathleen Vial,East St Kilda,Victoria​
award D.S.C. (US) as Pilot Officer​
killed in Liberator crash Medang-Wewak area,New Guinea ​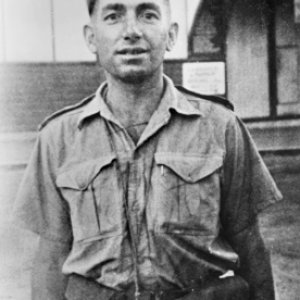 ​
Flight Lieutenant Leigh Vial RAAF, a civilian who had been evacuated from Rabaul, was adamant that he wished to return to New Britain as a Coastwatcher. Because the process of obtaining a commission in the Royal Australian Navy was so slow, Vial was accepted as a pilot-officer with the RAAF and sent to Salamaua as a Coastwatcher. He became known as 'the golden voice' as he reported enemy activity for six months from his post in the hills overlooking the airfield. He was personally awarded the American Distinguished Service Cross by General Douglas MacArthur. Later when he was stationed at Port Moresby, New Guinea, he wrote and distributed pamphlets for the Far Easter Liaison Office (FELO). The pamphlets were written in seven languages and carried various messages: urging Japanese soldiers to surrender; asking New Guineans to inform the Allies of the whereabouts of sick and wounded enemy and providing news of Allied victories. Vial was killed in April 1943 while flying with a bomb in the Sepik District of New Guinea, now known as Papua-New Guinea.
​
DATE OF DEATH:
30-Apr-1943
AWARD:
https://www.specialforcesroh.com/index.php?threads/vial-leigh-grant.34521/
CITATION:
Distinguished Service Cross : The President of the United States of America, authorized by Act of Congress, July 9, 1918, takes pleasure in presenting the Distinguished Service Cross to Pilot Officer Leigh H. Vial, Royal Australian Air Force, for extraordinary heroism in connection with military operations against an armed enemy as a Coast Watcher in action against enemy forces in the Southwest Pacific Area during the period from 15 February 1942 to 13 August 1942. (A complete citation of the actions for which the award to this officer is made cannot be published at this time for reasons of military secrecy.) NOTE: No evidence of a subsequent complete citation is available. Pilot Officer Vial was a Coast Watcher (Project Ferdinand). He manned an outpost in the hills above the Salamua airfield on New Guinea for the period specified in his citation, reporting daily on Japanese aircraft activity.
WEB LINKS:
https://valor.militarytimes.com/hero/17119
FINDAGRAVE:
https://www.findagrave.com/memorial/23716178/leigh-grant-vial
Last edited by a moderator: