Administrator
Staff member
Willink​
John Gretton "Jocko"​
Seal Team 3​
Lieutenant Commander​
​
Silver Star, Bronze Star​
Iraq​
born 08.09.1971, Torrington, Connecticut, USA​
graduated BUDs class 177​
retired 10.2010 (20 years service)​
weekly podcast, The Jocko Podcast​
co-founder Echelon Front​
co-owns Origin USA​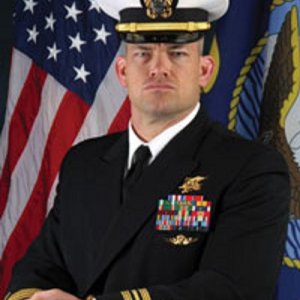 ​
CITATION:
Silver Star : The President of the United States of America takes pleasure in presenting the Silver Star to Lieutenant John Willink, United States Navy, for conspicuous gallantry and intrepidity in action against the enemy while serving as Commander, Task Unit-RAMADI assigned to Naval Special Warfare Task Group-ARABIAN PENINSULA, in direct support of Operation IRAQI FREEDOM from 7 April to 21 October 2006. Lieutenant Willink demonstrated exceptional leadership, operational vision, and courage under fire in the battle for Ramadi. He conceived and executed a brilliant plan aligning SEALs with American and Iraqi Army units to train and combat advise them, taking the fight to the enemy in their historical safe havens. Lieutenant Willink spearheaded battalion-sized missions, leading his forces in a high intensity and bloody urban warfare, to emplace six combat outposts in Ramadi, in a highly successful clear and hold campaign. His unit conducted more than 200 sniper overwatch, raids, and clearance operations to account for more than 200 enemies eliminated and more than 200 captured. Additionally, he aggressively expanded the human intelligence network in Western Iraq and employed civil affairs to gain cooperation from the local tribes in building the Iraqi Police Force and taking back Ramadi from the insurgents. By his bold leadership, courageous actions, and total dedication to duty, Lieutenant Willink reflected great credit upon himself and upheld the highest traditions to the United States Naval Service.
WEB LINKS:
https://en.wikipedia.org/wiki/Jocko_Willink
https://valor.militarytimes.com/hero/315878
https://twitter.com/jockowillink
http://jockopodcast.com/
https://echelonfront.com/